oy and Woe for KBS as Boys Before Flowers Surfaces on Youtube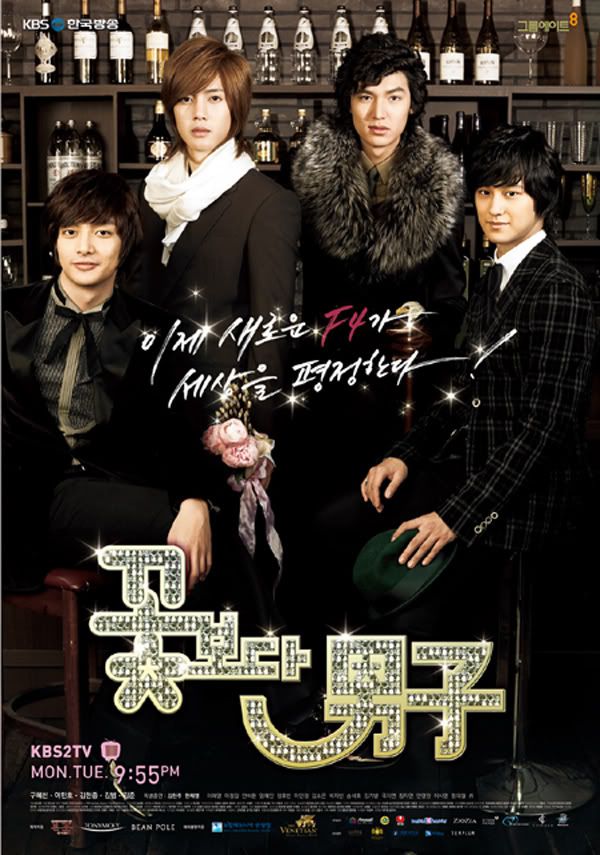 Not only is KBS Boys Before Flowers highly popular among television viewers in Korea as shown by the high ratings it has obtained, it is the same situation for viewers outside of Korea who are relying on video sharing websites like Youtube.com to be on the same page with their Korean counterparts.
But videos uploaded onto video sharing websites are not authorized in anyway by KBS. KBS and Group Eight have been working with Youtube.com to remove the copyrighted material in terms of picture slideshows and videos pertaining to Boys Before Flowers but are increasingly fighting a losing battle.
If you do a simple search or just view the video rankings, you would have noticed that videos of Boys Before Flowers are simply dominating the charts on Youtube.com. 1 particular cut of episode 10 has yielded an impressive viewcount of 160,004 hits after just 3 days. Similarly, videos of Boys Before Flowers are also dominating the monthly charts in addition to the weekly and daily charts. Many non-korean viewers are highly interested especially in videos that has english subtitles. Other than 1 So Nyeo Shi Dae Gee MV, all other videos belong to Boys Before Flowers showing its online popularity.
Although KBS and Group Eight have every right to be delighted with the response, they are also worried about the copyright infringement committed by the uploaders which they can do little about. A KBS representative expressed, "We have asked Youtube to take down videos that infringes on our copyright and because its illegal. But there is a limit to the crackdown. For every video that is taken down, 2 - 3 more would be uploaded in its place."
Some netizens are hoping that the crackdown can be stopped as the videos, some even with fan-made subtitles can go a long way in spreading Korean entertainment and culture to the rest of the world with relative ease.
KBS however expressed that there are legal and normal ways that can be taken to spread Korean culture to other parts of the world. They are not overly concern with the illegal uploads that infringes on the copyright but are highly worried that it paints a wrong picture to the rest of the world in that, Korea does not enforce proper intellectual property laws in the country.
The internet subsidaries of the 3 major Korean tv broadcasters KBSi, iMBC, SBSi have been tasked to work actively with video sharing websites to remove uploaded material deemed to have infringed on their copyright.
source: coolsmurf